Quite often indeed, lots of people see these amazing beautiful jewelry neatly displayed for sale in shops, while others see many more of them worn by person seated next on their flight, yet a handful others do trade in them!
Interestingly though, nearly all jewelry consumers and traders alike, ever find themselves left with only one option; "To Admire The Handwork Of A Lapidary, but move on", given that Gem-cutters across the world are no common place, because the skill or art of Lapidary is clearly absent in many countries for instance my country Uganda as on now! … Yes, everybody will naturally admire everything about cut colored stones; from their bright sparkling colors, shapes, facets, shinny polishing, to their reflection of brilliance, fire and luster!
Nevertheless, if you are the kind now considering taking it to greater heights beyond merely admiring and always wondering what exactly Lapidaries do when they turn what initially appeared as a dull rock into wonderful shinning and costly jewelry, then taking a 2-week Lapidary Course at the LAPIDARY TRAINING CENTRE in Dar es Salaam Tanzania is the way to go … just like I did personally last December 2013.
Via internet, I discovered the existence of this great basket of knowledge in Lapidary and Jewelry Training Techniques at the LAPIDARY TRAINING CENTRE in Tanzania, www.noreen.ch/education.html thus, couldn't wait to enroll for the 09th to 20th December 2013 intake for Lapidary Training, and upon arrival in Dar es Salaam, I together with Ms Erica Manjate my Classmate from the Republic of Mozambique, were first and foremost inducted step-by-step on proper operations of a series of ULTRA TEC FACETING Equipment, such as; Gem Cutting Machines, Cabbing Machines, Trim Saw, Flex Shaft Motor, Bench Lathe, etc, before systematically going through detailed Practical and Theoretical instructions conducted by the CENTRE'S Lapidary Training Experts; Ms. Noreen Masaki and guest teacher Mr. Hubert Heldner.
First and foremost one has to choose a clear, inclusion and crack-free bright color stone from the Centre's Stocks, before weighing, pre-forming, doping, faceting and polishing. It's here that we were reminded by our Instructors that upon completion of training, the cut stones belong to us as our valuables, thus, emphasizing precision cutting as the way to go.
I picked up from the stock a 21.3carat rough Scapolite to facet into a Round Brilliant shape, then instructions kicked off with the Instructors keenly watching over you to ensure you tread correctly, and before 13:00 of Day-2, I really couldn't believe my eyes when my Instructors said to me; …"Now Polish it up, and you are Good-to-go" ... Wow! …. What an amazing Sparkling 2.80carat Natural Scapolite with 73facets it was!!!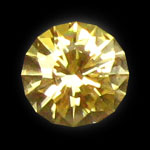 As my second stone, I commenced faceting a 4.6carat rough Natural Red Garnet to facet into a Round Brilliant Shape, thus, by noon of Day-3, it yielded a beautiful 1.20carat stone with 73facets.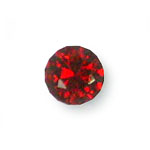 On Day-4, our hands were busy with the Cabbing Machine learning how to make several Free-forms and Cabochons.
Early on Day-5, I worked on a 4.3carat rough Natural Aquamarine to facet into a Round Brilliant Shape, and by 11:00 next day I came up with a 1.20carat stone with 73facets.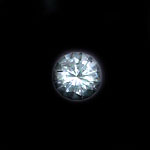 Early on Day-6 of our second week, I embarked on faceting a 12.1carat rough Natural Amethyst, and by 13:00 the next day I had a wonderful 1.55carat Triangle Context Shape with 9facets!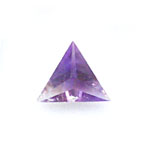 Day-7 afternoon, I begun working on a 34.8carat rough Natural Quartz to facet into a Triangle Cushion Shape, and by lunch time the next day, i came up with a 5.60carat stone with 43facets.!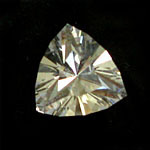 Day-8 afternoon, our Instructors took us through a thorough review of several areas they felt lacking that needed corrections and improvement, such as doping techniques (I wasn't good in this, Erica Manjate was), how to fix errors in faceting using the Angle-wheel and Cheater on the Faceting Machine, Colored stones Evaluation, drafting your own brief formula of steps to follow during the entire process of faceting copied from the elaborate symmetrical work-sheets issued out, and because this Institution offers Gemology and Jewelry training in addition to Lapidary, whenever we had any queries regarding use of Gemological Equipment, our Instructors were always more than willing to put that material into our heads, etc.
Day-9 was our Gem-cutting Examination, so, I was given a 19.2carat rough natural Yellow Scapolite to facet into a Triangle Cushion Shape, and the resulting stone - a 3.10carat with 43facets was duly certified as Perfect Cut by my Instructors.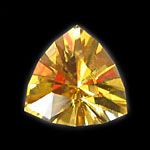 To crown it all, a Certificate awarding Ceremony took place on Day-10 at the Workshop over a cup of coffee, and this involved an impressive Question and Answer session in which we had the opportunity to ask our two generous Instructors a range of questions regarding; "Average costs of cut stones in Jewelry stores … advice on market connections … how to evaluate rough stones prior to purchasing … profit calculations and techniques used by seasoned and experienced Gem buyers from local sellers and miners to stay atop of the game … prices and other costs of Ultra-Tec Faceting Machines … advice to fresh Lapidaries like myself and Manjate who wish to find a place in the Gemstones Industry, etc.
I am too grateful indeed to Instructors; Ms Noreen Masaki of www.noreen.ch and guest teacher Mr. Hubert Heldner of www.free-form.ch for their immeasurable generosity and tireless effort in ensuring that I and my colleague Ms Erica Manjate went back to our countries with a wealthy package of Gem-cutting techniques and skill.
Yeah, two Kampala-based prominent Jewelry dealers I've so far approached for business have expressed interest and promised to get back to me soon.
Thank you very much indeed, Long Live LAPIDARY TRAINING CENTRE Dar es Salaam Tanzania, GOD BLESS those great Instructors.