Kiswahili
2021 Class calendar
Dar-es-Salaam Tanzania

Gemology class
5 days at
US$ 300.-

Lapidary class
2 weeks at
US$ 500.-
Short
lapidary class
5 days at
US$ 300.-
Full lapidary class - up to instructor level
10 weeks at
US$ 1'250.-
Casting &
wax modeling
5 days at
US$ 450.-

Jewelry class
5 days at
US$ 325.-
Nov 1st - 12th
Nov 8th - 12th
Nov 15th - 19th

2022 Class calendar

Dar-es-Salaam Tanzania

Feb. 7th - 11th
Feb. 14th - 25th
Feb. 21th - 25th
Feb. 28th - Mar. 4th
May 2nd - 13th
May 9th - 13th
Aug. 1st - 5th
June 20th - August 26th
Nov. 7th - 18th
Nov. 14th - 18th
Nov. 21st - 25th

Course documents are available in : English, Swahili, French, German.
For the lapidary classes in addition: Spanish and Portuguese.
Places are reserved on a first come first serve basis. Once we have your payment for the class fee, space is reserved for you. The number of students per class is limited.
Class registration
In house training - Lapidary instructor classes.
Lapidary and gemmological equipment for a training school with 20, 12 or 6 working spaces.
Gemstone Safari. An educational field trip, with an introduction to the geology of Tanzania and a visit of several active mines. January and July.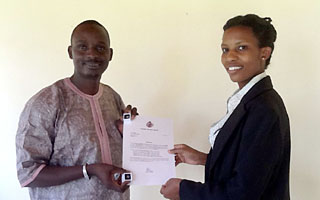 Noreen Masaki handing the certificate to a sucessful student.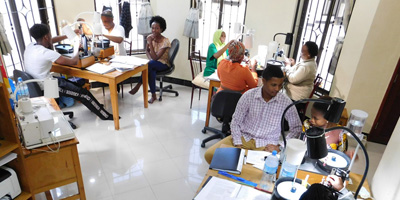 Have a look into the class room with a faceting class under way 2019.
We look forward to welcome you as a new student and watch your life and career develop to their full potential.
© Copyright photos by Noreen Masaki