This program has been developed on special request of our professional customers. If you are limited in time, or if you have your own faceting equipment already, then this is the right class for you.
- The class content is identical as in the 2 week class. -
This 5 day intensive faceting class introduces you to the cutting and polishing techniques of gemstones. A professionally equipped lapidary workshop is at your disposal.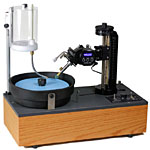 We work on Ultra-Tec V5 Digital faceting machines, different types of cabbing machines, on a gemsaw, with a foredoom flex shaft motor as well as with free form carving tools. We also learn grading, evaluation, orientation and the proper handling of gems before and after cutting. You will cut yourself a few faceted gemstones, cabochons and free-form shapes.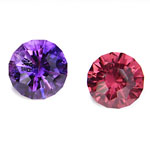 A professional instructor will introduce you to precision cutting to achieve maximum brilliance and beauty. The safe operation of all machines will be addressed properly and a complete documentation will be handed out during class. A certificate will be provided to each successful student.
Some stones will be provided. You may bring your own preferred rough stones. All stones cut during this class are yours to keep.

The class starts at 8am to 5pm with a one hour break at lunchtime.
Lunch is not included but can be organized.
Class fee for 5 days of intensive training is US$ 300.-