English
Taaluma
ya Noreen Masaki
Taaluma
2005 Lapidary Certificate - by The Southern and Eastern African Mineral Centre (SEAMIC) & FREE-FORM Artists.
2006 Gemmology Certificate - by SEAMIC
2006 Lapidary Instructor Certificate - by SEAMIC & FREE-FORM Artists.
2009 Bachelor of Commerce by Open University of Tanzania (OUT).
2012 Masters of Business Administration (MBA) at Open University of Tanzania (OUT)
2012 Jewelry Manufacturing Certificate - by FREE-FORM Artists.
2013 Accredited Jewelry Professional - by Gemmological Istitute of America (GIA)
Uzoefu

2006 - 2012 Employed in the function of lapidary Instructor at SEAMIC as full time activity.
2008 - 2012 Responsible for the lapidary classroom at SEAMIC as full time activity.
2011 - 2012 Guide to mining areas for SEAMIC students.
2012 Visit of several Mineral or Jewelry shows (Tucson USA / Basel World, Lausanne and Luzern in Switzerland)
2012 Accomplished intensive classes in jewelry manufacturing at FREE-FORM Artists.
2012 Visit of a historical water powered cutting workshop in Idar Oberstein, Germany.
2012 Founded the "Lapidary Training Centre" in Dar-es-Salaam Tanzania on September.
2013 Exploration of new gemstone mines in Tanzania.
2013 Visit of a modern diamond cutting workshop in Amsterdam, Netherlands.
2014 Exploration of an alluvial Jade deposits in Switzerland.
2014 Goldwashing experience at the Orbe river in Switzerland.
2015 Visit of St. Marie-aux-mines mineral show in France.
2016 Visit of the Munich Mineral Show in Germany.
2017 Training of lapidary instructors at VETA Shinyanga.
2018 Exploration of the concave faceting technique on the Ultra-Tec fantasy machine.
2019 Concept and realisation of a 10 week lapidary instructor class in Dar-es-Salaam.
2019 Collaboration with SIFODI Association and Dr. Denis Mukwebe foundation.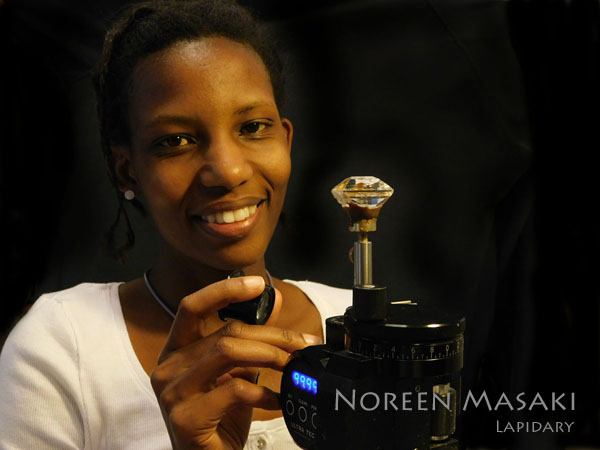 References, vituo vya mafunzo na vyuo nilivosoma

© Copyright on all photos by Noreen Masaki